It's a hot sunny day and you're lounging by the pool, but despite the heat, you won't jump in. You can't swim! Warm days and cool pools are not far away. With summer approaching, you may have recently found yourself googling adult swimming lessons near me. If that sounds like you, then it's your lucky day! We have put together a list of great tips to help any swimmer get started in the water.
Getting Started with Adult Swimming Lessons
We understand that learning to swim as an adult for the first time is a lot to handle. That's why Coach Slava and his team came up with this list to make the process smooth. We'll let you know what to expect and make sure you're prepared to handle any challenges.
Getting your feet wet can be a daunting experience when learning to swim. For many adults being in the water is uncomfortable, this is normal. Don't try to deny these fears. Once you accept them as something that can be overcome, you'll find they go away on their own.
It's always good to be prepared. You won't need much for your swimming lessons, but a couple of items will come in handy. A kickboard can help you stay afloat while learning different techniques. Goggles are beneficial as well to get you comfortable under the water. A swim cap will keep your hair out of your face and protect it from chlorine and the sun. Be sure you have some flip flops for walking in locker rooms, on beaches, and on pool decks. Fins are great to help perfect your technique. They'll make you fast and improve your posture. Also, don't forget you need a towel to dry off and warm up after your lessons!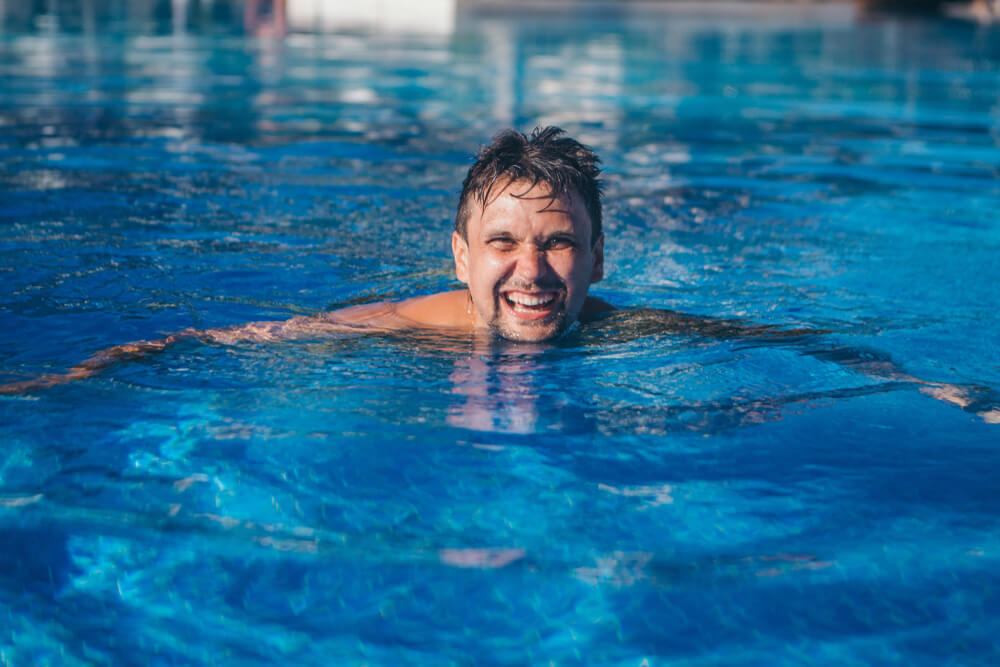 This part can be especially challenging for some, but it's a crucial step. To swim effectively, you'll need to be relaxed when your face is submerged. If you find it difficult to fully submerge yourself, start by practicing going underwater briefly. It may take some time, but soon you'll be as comfortable as a fish underwater.
Practice makes perfect! You should try to spend as much time as you can in the water. If you have any fear of swimming, more time spent will help alleviate it faster. If you spend too much time out of the water you could lose valuable progress. We know as an adult it can be hard to find time and a location for this. Coach Slava and his team go the extra mile to make it easy to fit lessons into your schedule. We'll even come to you!
Swimming is not something you can teach yourself. You're going to want someone who knows what they're doing in the water with you. Having a proper teacher will reduce the risk of injury and help perfect your technique. You can't see what you're doing when your face is submerged. Coach Slava and his team of professionals will ensure that you not only succeed but thrive in the water. Getting a good teacher is the most important tip for learning how to swim.
Something to Consider with Adult Swim Lessons
One thing to think about when you're getting swimming lessons is if you want to have a private lesson or a group lesson. Private lessons might be more beneficial to you if you like a lot of attention. In a group, you may find you're not getting enough attention. If you have any anxiety around the water, being in a group can exacerbate it. Being 1:1 with a coach allows the coach to give you their undivided attention. They'll be able to see your strengths and where you need improvement. Our trainers will give you a pleasant experience and get you feeling comfortable in the water quickly.
Coach Slava's team is here to help you on your journey in learning to swim. Coach Slava's team includes professional swimming coaches who will ensure your safety and help you realize your potential. We'll go as far as coming out to meet you either at your neighborhood or personal pool. We also have a location in Hallandale. Reach out to us here to get started on your swimming journey!