If you`re interested in olympic swimming, read on: we`re going to tackle a few of the most important things to know as you embark on this noble journey! You may think a strong body is the thing you`ll need as an olympic swimmer. You would certainly be correct, however, there`s one factor that proves to be equally as important, if not more so. Mental strength!
Olympic Swimming in a Nutshell
Having good discipline is incredibly important to anyone who is interested in becoming an olympic swimmer. Ranking in importance right alongside mental strength comes confidence: you will certainly need to believe in yourself if you are to take on this massive task. Some of the things you will absolutely need are:
Balance. You`re going to need to become a professional at staying in your line as you swim so as not to bump into the other olympic swimmers. This is absolutely something you can master at a swimming facility.
Alternate breathing. This means the act of breathing every three strokes and on both sides of the body. It`s important to practice your breaths on both sides of your stroke, and perfect your alternate breathing practices to ensure you can move quickly. This way, you can power your muscles with oxygen, and be prepared to take forceful, speedy strokes.
Hand positioning. The way your hands hit the water is going to have a lot to do with how quickly you can move. Olympic swimmers know to maintain a slight spread between their fingers, as it increases the total surface area of your hand. It`s imperative to have proper hand positioning as you swim if you want to shoot through the pool like a rocket!
Passion. When you work with care and gusto, you are sure to perfect any art you attempt. Being able to generate passion can be an extremely useful trait, both in and out of the pool! Don`t swim for your parents, your peers, or simply to win. Swim because it`s good for you, because it`s satisfying to perfect an art, and because you`re passionate about what you do.
An amazing attitude. You`re going to need courage, perseverance, and the ability to push yourself if you are to follow through with these international competitions to become an olympic swimmer. This task is not for the light hearted, as the Olympics are home to some of the greatest athletes the world has ever known. Those swimmers will be your competition, and if you are to take home the gold (or even the silver), you`ll need to outdo them somehow. Practice makes perfect, and there`s no shame in receiving professional swimming lessons with an aquatic director. Most olympic swimmers do!
How to Choose a Professional Swimming Coach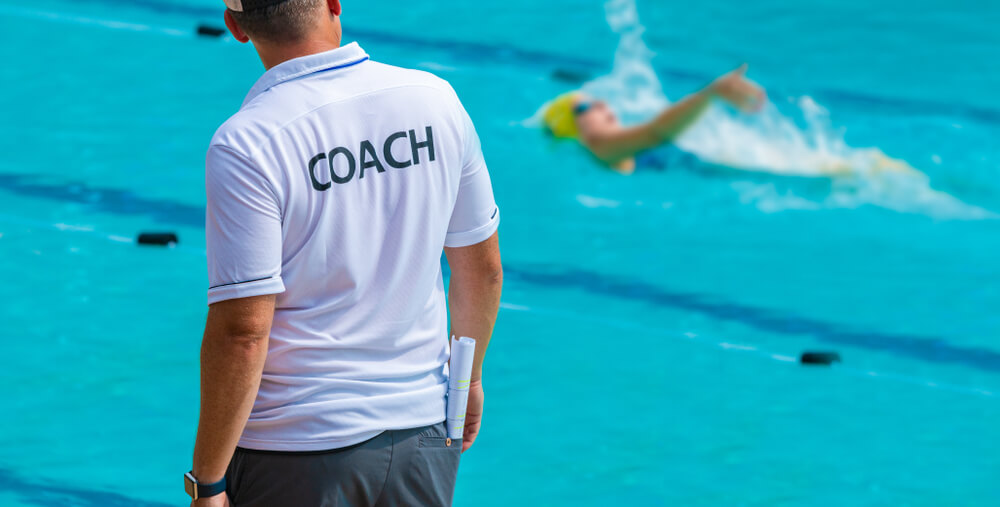 You might have a lot of questions. What is the air horn during Olympic swimming? How long is an Olympic swimming pool? When you have a professional swimming coach, you can ask them these questions, and more! They can answer these in detail, and prepare you for the eventuality of your international competition. Look for someone who is trustworthy, and shares your values.
You might not want to work with a coach who won`t respect your boundaries, or who pushes you farther than you might feel as though you can perform. Ask lots of questions before you pay for any professional swimming lessons so you can ensure you`re getting them in the right place. If you want to chat with us about our coaching programs, give us a call at (203) 690-7756 to learn more, or you can shoot us an email at [email protected]. We`re excited to swim with you!