Spring is here! The warm days have returned, and we`re collectively thinking about gliding through the water once again. You might be excited to swim for a handful of reasons, including the ability to cool off on these oh-so-warm days. But just how many calories do we burn when we`re swimming? In this article, we`ll take a closer look, and break down some of what happens in the body as those calories get eaten up by all the fun you have while swimming!
Staying Active With Swimming Lessons
You might be wondering: how many calories does an hour of swimming burn? The resistance of the water you move through is much higher and much more consistent than the air we`re used to navigating. That makes it a lot easier to burn calories as you swim than you would by running. Plus, swimming uses many more muscles than running or targeted exercises, and is a great full-body workout.
So, really, how many calories does swimming burn? Let`s say it`s around 500 calories for an hour in the water. Additionally, there are huge benefits to be seen as you keep your spine straight in the water, which you can learn how to do more efficiently with some private swimming lessons. Learning swimming tricks from a professional coach can help you to maximize the productivity of your workouts, so don`t hesitate if you`re interested in swimming lessons!
How Many Calories Does Lap Swimming Burn?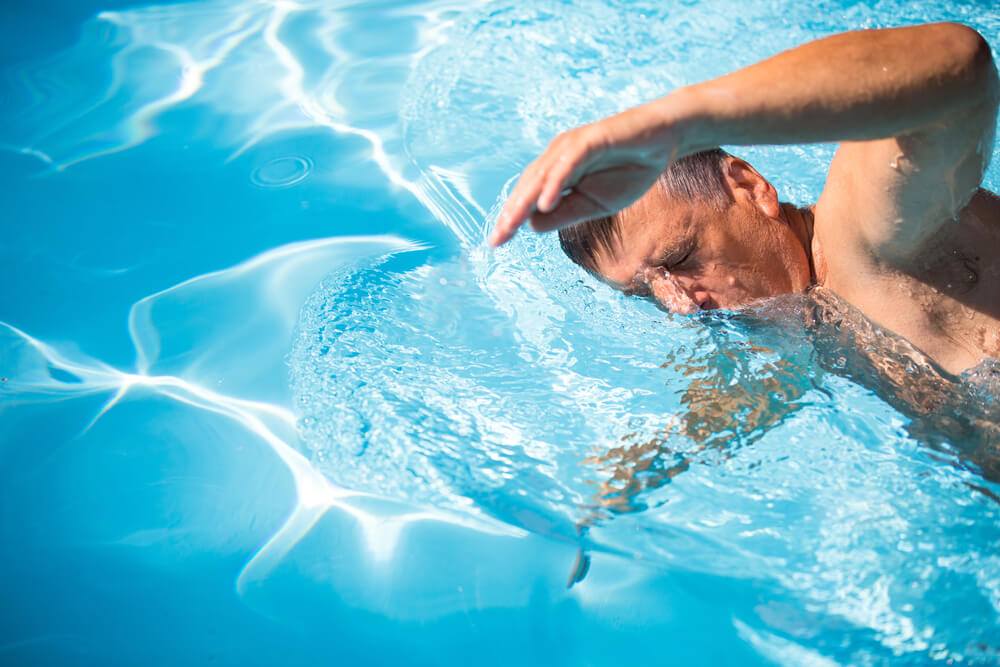 Let`s talk statistics: swimming laps while you exert light to moderate effort will burn a little less than 500 calories. It`s about the same if you choose to go backstroke. When you are crawling/freestyle swimming, you burn more calories on account of the utilization of more muscles–it puts you a little closer to 600 per lap, if you really exert yourself. Getting the kids swimming can keep their bodies healthy and strong as they grow, even though they`re usually not as concerned with burning calories.
Adult swimming is great for boosting your heart rate. Since it`s a good idea to get your heart rate up for at least thirty minutes a day, it can be extremely beneficial to swim for at least that long. Swimming actually helps to prevent bone loss as well, since it`s considered a weight-bearing workout. The total calories that you`ll burn are always going to depend on the intensity and length of your exercise. That`s in addition to your limitations and body structure, however, you`re always bound to do wonders for your stature. Swimming can be much easier on the joints, which makes it an awesome option for adult swimming as we age.
Looking for Swimming Lessons in Miami? Look No Further!
It doesn`t matter what level you`re at, what age you are, or what kind of swimming you want to do. If you`re looking for an educational and encouraging experience as you learn more about swimming, we`ve got you covered! We have locations in Miami, Miami Beach, Aventura, Golden Beach, Sunny Isles Beach, Bel Harbour, and Surfside areas, as well as a few other areas of Broward and Miami Dade counties.
It`s always a good idea to diversify your exercise routines, and when you incorporate the full-body workout that swimming provides, you give any workout plan a huge boost. You can also meet other swimmers and create a new network for yourself of healthy, thriving individuals! You can reach us at (203) 690-7756, or shoot us an email at [email protected]. We`re excited to teach you about new ways to burn calories while you stay cool in the pool!